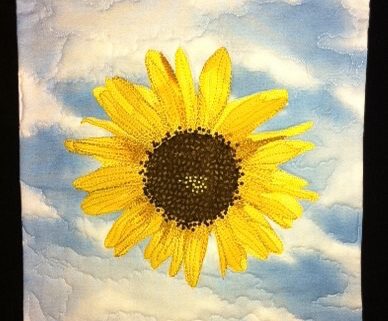 Once upon a time there was a vivacious young girl who dreamed of growing up to be an artist, a textile designer to be exact. Determined, she had the great fortune to obtain employment at a large department store in the city center with plans to obtain a firm foundation in her future career. What was less fortunate was the time and place into which this young Jewish girl was born: Berlin at the precise time the winds of war were gathering over Germany and the evil specter of National Socialism and Adolf Hitler were in ascendance.
Not unlike Oskar Schindler, the owner of the store made up his mind to help some of his young employees escape Germany. With limited resources and so many in need of his help, he devised a plan to assist him with the daunting and nearly impossible task of deciding who would go and who would stay. He announced a design contest. Winners would secure a place on the Kindertranport, a rescue effort that gave refuge to thousands of Jewish children in Great Britain between 1938 and 1940.
Luckily, the girl's design was one of those chosen and she was smuggled out of the country to live with her new "adoptive" family in the green Valleys of Wales. What became of her parents and the rest of her family is not my story to tell, however, the girl lived on in Great Britain, eventually marrying a British Army Officer who later became Headmaster of a boy's school. Her dream of becoming an artist was never fulfilled but she became the mother of two lovely children, a boy and a girl.
Her son married my best friend Anne 40 years ago. The "girl" is now 91 years old, but I only learned the basics of this tale a few years ago. The rest of the story was revealed to me just a few weeks ago when I posted an image of one of my latest pieces on Facebook, an art quilt featuring sunflowers. The very next next morning I received an email from Anton inquiring about the availability of the piece which I had just dropped off at a museum rendering it unavailable. His inquiry was shortly followed by an email from Anne informing me that he wanted the piece for his mother. Her winning design, the one created all those years ago, the design that literally saved her life featured sunflowers, Sonnenblume. So this little piece was designed and made just for her and is on it's way across the ocean to find a new home with woman who has been an artist in her heart for all these many years.
http://suekingarts.com/wp-content/uploads/2016/09/image3.jpg
387
388
Sue King
http://50.87.249.178/~suekinga/wp-content/uploads/2017/06/SKA_Web_350px_BLK-1.png
Sue King
2016-09-03 02:35:53
2017-08-30 19:35:03
Every Picture Tells a Story Don't It?