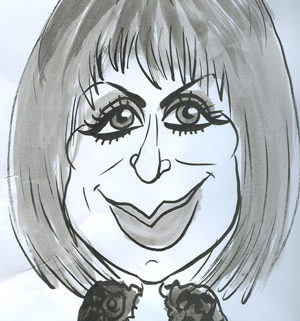 Caricature of a Textile Artist at a Wedding
*
No, I haven't been abducted by space aliens or been lost at sea, but I have been too darn busy to write for quite some time. I spent much of the winter quilting and preparing for several solo exhibitions scheduled this year, getting ready for my son's upcoming nuptials, settling in to a new position at work, and best of all, travelling. I just returned from a trip to Great Britain last month where I was the Matron (I hate that word, sounds so old) of Honor at my best friend's wedding. More about that later. I have noticed that being a textile artist is somewhat like being a pregnant woman who notices babies everywhere she goes. Babies are cute, but wherever I go, I notice textiles. This trip started off with the purchase of some pretty high end textiles in the form of a custom order dress and hand dyed shoes.
*
I spent a month last October looking for the perfect dress to wear to Anne's wedding, who by the way re-married her ex-husband after twenty some years of being divorced. After much trying on of elaborate textile confections, I settled on a design selected from a photo on the Internet. It was so new that samples were not available to try on when I visited the bridal stores. So, with blind faith, it was paid for and I settled in to wait out the four months required for it's creation. I arrived at the store with baited breath for the fitting, and found the dress wrinkled and covered with loose thread ends that I meticulously clipped off. Considering the cost of the dress, surely the owners could have afforded to do this themselves. Other than that I was pleased. It was made of lace and silk in shades of cappuccino and mocha, quite pretty and just the ticket for this special event. The wedding was in Wales, so I had it pressed at a charming little bridal shop made of stone and slate in the tiny village of Cowbridge; it looked lovely. Meanwhile, the run up to the wedding day was filled with pampering and preparation. Chauffers drove us to appointments to get our hair done, to have french manicures, massages and spray-on tans. The last is not an experience I would recommend for the faint of heart.
*
For this special event, I was ushered upstairs to a storage room containing a three sided camping tent. I was then asked to strip down, stand in the tent and hold out my arms and legs at various angles, while twirling in a circle, etc. as the attendant sprayed me in the face and everywhere else with a cold mist of slimy, sticky orange dye. I was then instructed to stand on a towel and flap my arms about for the next ten minutes to encourage the drying process. To complete this total degradation, the attendant was about 19 years old and appeared to be about a size two. She was probably thinking she did not get paid enough to do this kind of work and maybe she should please her parents and enroll in college after all. The whole experience enhanced my empathy for the inhabitants of Abugrabe Prison…the only thing missing was a few snarling German Shepherds!
http://suekingarts.com/wp-content/uploads/2011/04/caricature.jpg
442
300
Sue King
http://50.87.249.178/~suekinga/wp-content/uploads/2017/06/SKA_Web_350px_BLK-1.png
Sue King
2011-04-22 23:06:00
2017-07-14 01:11:31
Adventures of a Textile Artist Abroad